William L Eckstrom, President
Bill has spent his entire career in the sales arena; the first 14 years in personal production and then 12 in strategic sales management. He began his management career in 2000 with a medical equipment company and rapidly climbed the ranks, being named the U.S. Director of Sales. In 2004, Bill was lured away to become Sr. V.P. of Business Development for a publicly traded health care organization. By 2007 the organization's stock price had doubled and at year's end, new sales revenue had grown 280%.
Always fascinated with the performance of individuals and teams, in 2008 he founded the EcSell Institute to fill a void in the sales leadership profession.
Bill is passionate about the impact of effective coaching, leadership and management on the performance of individuals and teams. As a result of his company's experiences and research findings, Bill has been sharing best practices and formulas for peak performance to audiences around North America for many years. He has presented to hundreds of groups ranging in size from 25-2,500.
Lincoln, Nebraska is home for Bill, Kerstin, Will Jr, Claire and Maddie. An active family, three dogs and outdoor activities all keep Bill busy when not engaged at work.
Connect with Bill on LinkedIn.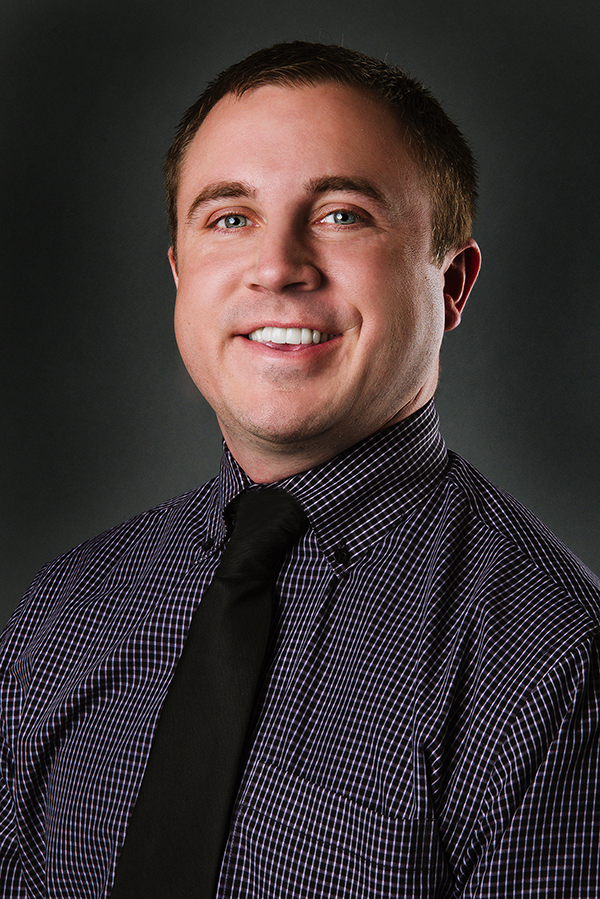 Will Kloefkorn, Vice President of Sales

Will Kloefkorn has been in the sales industry his entire career. He has served as sales manager with the EcSell Institute team since the company's inception. He is responsible for leading EcSell Institute's worldwide sales growth strategies and business development initiatives.
Will's background includes business development jobs with recognized organizations such as ESPN, Enterprise and time with a smaller start-up. Will brings an unparalleled passion to the EcSell Institute and his belief in the effect of coaching, leadership and management on the productivity of sales teams has been felt on many levels.
In addition to his business development activities, Will is a popular speaker at EcSell Institute events as he is able to articulate the needs and solutions our members encounter on a daily basis. He brings a refreshing approach when presenting to sales leaders, for he challenges his audiences to think about their impact on sales producers. He is a student of leadership and coaching, knowing firsthand how those talents and skills can help take a producer from simply good, to extraordinary. Will has created a highly informative presentation based on EcSell's "Through the Eyes of the Sales Rep" research titled What You Are Not Hearing from your Sales Producers is Losing You Sales.
Will earned his Bachelor of Journalism degree from the University of Nebraska, and he resides in Lincoln, Nebraska with his wife Amy and young son Jackson. Beyond work and family, most of Will's energies are spent in competitive athletic endeavors.
Connect with Will on LinkedIn.
Kerstin Olson, Chief Operating Officer
Kerstin Olson has been with the EcSell Institute since its inception. She has overall responsibility for membership services, information technology, finance, and the company's internal operations. She also serves as treasurer and secretary for the EcSell Institute Board of Directors. One of Kerstin's priorities is to help ensure that the passion, philosophy, and vision embodied at the corporate level are reflected throughout EcSell's membership base.
Kerstin resides in Lincoln, Nebraska with her husband and three children.
Connect with Kerstin on LinkedIn.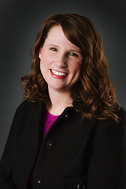 Sarah Wirth, Vice President of Client Services
Sarah Wirth has over 17 years of experience in employee assessment, leadership development, sales executive coaching, and customer service.
She began her career as a talent analyst for an international human resource firm, where she coached leaders in organizations ranging from small not-for-profits to Fortune 500 companies. When named chair of leadership consulting and a member of the senior operations team, she helped lead the organization to a 65% increase in revenues. In 2009, she joined a publicly-traded organization as the vice president of client service, increasing client contract retention by 36%. In 2011 Sarah came on board with the EcSell team as Vice President of Member Services, where she oversees member retention and all aspects of sales coaching, leadership and management research. Under Sarah's leadership, EcSell Institute's member retention has grown to over 94%.
Sarah has a passion for leadership and its impact on the performance of teams. She takes an analytical approach to understanding the skills and talents of high-performing sales leaders and is constantly providing EcSell members with new methods for leading and coaching.
Sarah has presented to executives from across the globe with organizations such as Mercedes Benz, Estee Lauder, Ritz Carlton, Cheesecake Factory and many more. Her expertise in coaching and leadership, combined with her fact based, common sense approach to their application make her a sought after presenter at any event.
Sarah has a B.S. from the University of Nebraska, holds a J.D. from the University of Michigan Law School and is a member of the Nebraska Bar Association. She has also served as a legal advisor for previous employers, specifically in the areas of contract, employment and intellectual property law.
Connect with Sarah on LinkedIn.
Stacia Jorgensen, Director of Research
Stacia Jorgensen brings an array of experiences in data collection and analysis to EcSell Institute as the Director of Research. She has over 13 years of experience running a non-profit academic research organization and has expertise in both qualitative and quantitative data collection methodologies. She specializes in collaborating with clients to meet the data needs of their specific sales team while providing information that is easy to use and understand.
Stacia received a Master of Arts in Sociology from the University of Nebraska-Lincoln. In addition to her experience in collecting data, she also teaches research methods courses and courses in applied Sociology. She resides in the mountains outside of Salt Lake City, Utah with her husband, two small children, and two small dogs.
Connect with Stacia on LinkedIn.
Shirley Ramos, Director of Client Engagement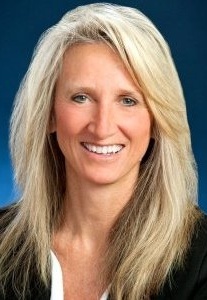 As an executive coach and corporate consultant, Shirley specializes in human capital assessment and recruitment, as well as talent development at all levels of an organization. In addition to individual and group coaching, Shirley works with clients to design and scope workshops and presentations, facilitate meetings and groups, and provides consulting services on a variety of talent and personnel development topics, as well as leadership development strategies. Her enthusiastic and professional, dynamic approach draws from her real-world experience as a manager and corporate leader and as an executive coach for both mid-level managers and "C-Suite" leaders.
Shirley leverages 20+ years of training, leadership and facilitation experience in both the public and private sectors when designing and delivering cutting-edge programs for her clients. Most recently, Shirley provided talent development and leadership consulting services for industries traditionally employing both blue and white collar employees.
She holds a bachelor of arts in psychology and education, with a master's degree in educational leadership and human resources. Shirley's Ph.D. work is in the area of educational administration and leadership development. Shirley is certified in the PDP Survey tool and is also adept in both change management and solution sales methodologies.
Connect with Shirley on LinkedIn
Kathy Collins, Vice President of Client Operations
Kathy Collins is an empowered facilitator who values project management and process improvement. A detail-minded professional, Kathy has spent the last 24 years in advertising/marketing management, marketing director and traffic manager roles. Kathy is poised at improving process efficiency and the tracking that corresponds with daily tasks. As one that appreciates a fast paced, attention to detail work environment, Kathy is regarded as a trusted partner who can calmly facilitate client needs. Kathy holds a bachelor of journalism degree from the University of Nebraska-Lincoln. She enjoys volunteering for local non-profit organizations in addition to growing two mission-driven Internet businesses with her family. She lives in Lincoln, NE with her husband and two sons and enjoys spending time with her family and friends as well as gardening, cooking and traveling.
Connect with Kathy on LinkedIn.
Jeffrey Cochran, CISSP, Director of Client Support Services
Jeffrey brings over 35 years of computer and technology experience including 20+ years of direct support services. He has been involved with EcSell from the beginning, providing technical support and guidance.
For the past 15 years Jeffrey has been in a direct support role providing customized and personal support services for businesses of all sizes. His dedication to understanding and supporting technology and the ability to break down the technical terms and explain complex ideas in an easy and understandable fashion makes him a great asset the the EcSell team.
Jeffrey holds certifications in all aspects of server systems, networking, computer support, and information security, and has a background in computer programming. He recently completed his CISSP (Certified Information Systems Security Professional) certification.
Jeffrey enjoys outdoor power sports activities with his two boys and wife in and around Lincoln, Nebraska where they call home.
Connect with Jeffrey on LinkedIn.
Anna Schott, Director of Marketing
Anna Schott began her career with the EcSell Institute in the summer of 2014. She is an alum of the University of Nebraska-Lincoln and graduated with high distinction from the college of Journalism and Mass Communications. She has an extensive background in marketing, project management, social engagement, leadership and strategic communications. Some of Anna's favorite experiences were working within the communications department for the state of Nebraska for Governor Dave Heineman as well as her time spent with the talented marketing and PR professionals at Madonna Rehabilitation Hospital. With a passion for results and motivation to succeed, Anna continues to lead in the creation of all strategies and execution that improve awareness and brand image for the EcSell Institute.
Anna enjoys being outdoors, specifically on her bike commuting to work, as well as staying connected within the community and supporting Husker athletics. In her free time she enjoys being a contributing writer for Holstee, a company out of Brooklyn, NY whose mission is to help people live a reflective and intentional life. There's no doubt she takes every opportunity to capture the small joys in life.
Connect with Anna on LinkedIn.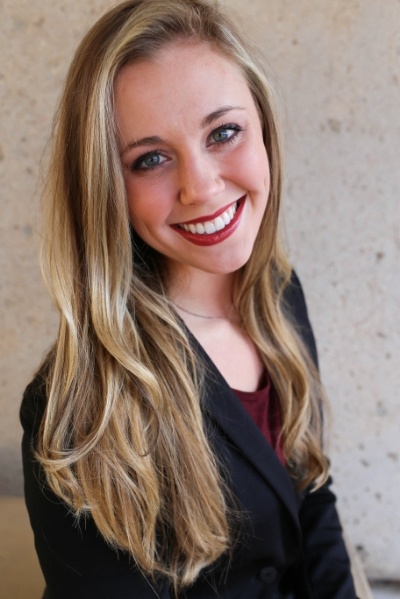 Jamie Orth, Event Coordinator
Jamie is a junior studying Marketing and Management at the University of Nebraska- Lincoln where she is a member of the inaugural cohort of the College of Business Administration Honors Academy. She currently focuses on the event coordination at EcSell while exploring her interests in management, hospitality and human resources. Jamie is very passionate about people and finds great importance in client satisfaction and building strong relationships. Her challenge-hungry spirit and dedication to detail contributes to making her the perfect fit at EcSell.
Her adventurous spirit has led her to climb her first 14'er and brave her first white water rafting experience this year and is looking forward to more explorations to come. Because of her strong interests in health and fitness, Jamie has become very involved at UNL at the Campus Recreation Center where she manages their social media and has been working to promote their brand.
Connect with Jamie on LinkedIn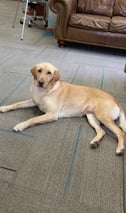 Aspen, VP of Office Therapy
Aspen has over four years of experience in the therapy field. She puts in long hours at the office and enjoys a nice treat a couple times a day. She specializes in lengthy naps, stare downs until you pet her and shaking hands.
Aspen has recently completed her tests to be a Certified Therapy Dog. She and her owners are very proud of her accomplishment.
Follow updates on Aspen on the EcSell Institute LinkedIn page.